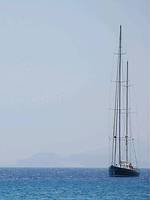 Kos Town Reviews
---
Places to Visit
---
Kos Guide


Flamingo

(Bars in Kos Town)

10/10
Tony A

THE FLAMINGO BAR
THE HARBOUR - KOS TOWN.
Tel: 0030 22420 24390 Web: http://www.flamingo-kos.gr/
This Bar is located about halfway along the Kos Town harbour front opposite the KATERINA SAILING BOAT.
This is a very pleasant bar serving snacks, coffee, drinks and cocktails. It is a nice place to pass an hour or so whilst looking at the boats departing and arriving. It is also good for people watching. Give it a try you may enjoy it.
Tony Ainsworth - April 2010.

Peter K
Back in 1995 me and my wife (when she was my girlfriend, lots of things can happen in a decade...) went on a holiday to Greece on the Island of Kos. Almost every night we spent an hour or two drinking a few cocktails and eating squids at The Flamingo Bar. It was a great place to be. Last year (2005) we went back to Kos and visited The Flamingo Bar again. Guess what? The same cocktail my wife used to drink in 1995 and the same squids were still on the menu. We spent a few hours on their terrace and thought back of 1995. Nothing changed, only our weight and my colour of hair... Anyway, The Flamingo Bar is Perfect!! Greetz from the Netherlands and bye bye.
Pinkteddy & ninja

Stopped for lunch at the Flamingo. A great place to watch the world go by, just on the harbour so you can watch the boats doing what boats do etc. Great service, scrummy pizza and good prices too.
Lee J
I can highly recommend the Flamingo bar, the food was excellent, the staff very pleasent and keen to help. We ordered a couple of sandwiches which wern't on the menu and they had no hesitation of making them. You can alway tell a good place to eat by the number of people sitting and having a meal or a drink and out of all the places on the front of Kos town the Flamingo bar seemed the most popular and for very good reason. Overall Excellent food, beer and my wife can highly recommend the cocktails there especially the Rasberry Blossom......
Robert W
We stayed in Tingaki;when we went to Kos it was the only place my daughter would go to as it is an extremely pleasant place to sit and have a drink.It may sound a bit basic but the toilets are clean and well looked after. An important factor if you have kids with you and the people who ran it/worked there were good with the children.
| | |
| --- | --- |
| Search for Flamingo in all of JustKos & the Messageboard | |
More Bars in Kos Town...

Baya Beach Bar | Blues Brothers | Cafe Bravo | Cafe XL | Camel | Charisma | Crazy Horse Saloon Bar | Del Mare | Fashion Bar | Fikos | Flamingo | Heart Rock | Heaven | Jacksons Bar | Kalua | Limit Bar | Lucky Star | Molly Malones | Nostos | Prince Bar | Prinos Cafe Bar | Red Bar | Shenannigans | Shooters | The Delon Pub | The Doors | White Corner |