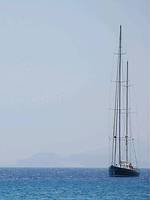 Kos Reviews
---
Places to Visit
---
Kos Guide


Mastihari

(Beaches on Kos)

8/10
R W
nice sand and very long beach. we went to the end of the beach that didn't have all the umbrellas and sunbeds and the beach was empty, you could lie down a good 50 yards away from tthe nearest person (which was a good job as the germans like to treat it as a naturist beach, complete with standing up and walking down the beach front for no reason at the first sign of new people coming onto the beach - why do only fat people do the naturist thing ?).
the only down side to the beach in mastihari, was the seaweed which comes in with the winds. Its not partucularly horrible seaweed, but can come in large quantities. Luckily, as long as you don't mind walking though it, you can get to clean waters. The sea can get a little rough some days as well.


Paul M

Beach was great. We visited early July 2005, and the village and beach were very quiet. Water was clear and warm, and great for the kids. Staff in the local Tavernas were very friendly, especially at the Horizon. If you are looking for a place to relax away from the rat race then this could be it!
Tricia K
Best beach I have ever been to. At high season (August) it was relatively quiet but with enough people to make it feel safe but not feel anyone was intruding with each other. Clear water, gently shelving, enough waves - calm during the day and a bit more wavey at night. Swimmers paradise rather than a surfers. Tavernas nearby for a drink, snack or to use the toilet. 5 euros for two sunbeds (and chap usually threw in a free one if kids were with me when we paid).
David B
The beach at Mastihari was one of the best beaches we have been to. At one end near the village there are sunbeds to rent. Or if you want to have a hundred yards or so of beach to yourself there is a mile of beach which was almost empty and this was in august.The sand is white and soft the sea is very shallow and warm. It is very hot on the beach but there is also a nice refreshing breeze on most days.
Kirsty L
Mastichari has a lovely fine white sanded beach you just have to see!!
Michael C
What a beautiful beach, the sunbeds were well spaced out and not as expensive as the other beaches. The only thing missing was a beach bar at the far end away from the port.
| | |
| --- | --- |
| Search for Mastihari in all of JustKos & the Messageboard | |
More Beaches on Kos...

Agios Stefanos | Bubble Beach | Camel | Kamari | Kardamena | Kefalos | Kos Town | Lambi | Magic | Marcos | Marmari | Mastihari | Paradise | Psalidi | Sunny Beach | Therma | Tigaki | Tropical | Wave Beach |