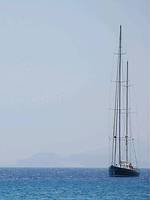 Kardamena Reviews
---
Places to Visit
---
Kos Guide


Avli

(Restaurants in Kardamena)

10/10
Pete H

First visited this restaurant last year when on a visit to Kardamena, my initial thoughts were wow! This was soon backed up by our meals. Very nice surroundings, good service with real customer satisfaction. Would have no worries about recommending to anyone visiting Kardamena.

When we were in Kos again this year we made a point in visiting the Avli once again, and were not dissapointed, same as above.

This is of course our personal point of view....but if you are in the area why not give it a try for yourselves
3/10
Pearl C

Due to the fact that Kardamena does not have any decent restaurants and only cater for fast food holiday makers we dined at the Avli,. we found the food very bland compared to other Greek Islands. The family who run the Avli are Australian/Greeks so this might be why the food is so mediocre.
Colin S

Answer to the question about avli still having studios.
9/10
Paula P
visited your restaurant about 5 years ago but stayed at the soverign beach would like to know do you still have apartments for hire spoke to the lady owner about this at the time we would like to know for a holiday we will be taking soon. many thanks .
Michele C

All of you made our vacation very special....My best summer night I spent in your restaurant with your special food and your happyness! I want to thank expecially "Nostra Signora dei dolci" Marina with her sons Panos and Antonio....and a special kiss to Sammmy for a special person!

See you and good luck to everybody!
Michele C

........and I want to spend a word for honey, yogurt and nuts....you sent my friends crazy...they were looking for a muscle man who was to Sovereign beach hotel all night long....but what kind of yogurt you gave them....was it really afrodisiac?....Great job!

il "Capitano"

10/10
Ben S
Love this restaurant. We were lucky enough to dine here for 6 nights out of our week long holiday, including a bonus night when our flight was delayed 7 hours (a great way to kill some time!)
First of all, the setting is beautiful. True open air dining which seems like the hustle and bustle of Kardamena is on another planet.
Then the food. Oh the food. And I thought Greeks couldn't cook. Wrong! The first night I had Lamb Stamnas - the best tasting, most tender lamb dish I have ever had. After that, we didn't need to risk another restaurant and be let down, so it was Avli the next night and so on. We agreed that the owner/manager - a perfectionist by the name of Panos - was to choose our food for us. He didn't disappoint. We had great meal after great meal including meze, Chateau Briand, amazing king prawns and the most fabulous tasting meatballs as a meze dish.
Wine was chosen by his brother, Tony, who really knew his stuff. All very much appreciated. And all served up by the beautiful Samantha. And we can't forget Marina too.
If you appreciate great food, decent wine, great service all in a beautiful setting - you have to go to Avli. You won't be disappointed. We felt we arrived as customers and left as friends.

7/10
Kim S
A very nice restaurant with a great atmosphere and very friendly staff. We ate here twice and one of the waiters even remembered what we had ordered the first time around. Please note the restaurant is located in a lovely setting in an open courtyard - the second time we went it was very windy and the food got cold quite quickly. The Prawn spaghetti was nice, but you pay if you want the bigger prawns, and the fillet is to die for, very tender. The waiters are very good at upselling. Expensive, but worth a visit.
Chloe J

AVIL was a lovely restraunt it was exellant! ecpecialy the food . It was beautiful where i ate with all the candels in the garden and the services were great
E G
This has to be one of the best restaurants in Kardamena. Set in the courtyard of an old restored house the atmosphere is wonderful. The service really is excellent - friendly and efficient.

We ate here twice and on both occasions the food was very good. I had the biggest - and nicest - prawns ever!

Definitely a restaurant I would recommend.

Vicky & paul C

Fantastic..........

We walked past every night.......... and decided to go in eventually, food brilliant, service great (apart from when we sat inside) it was a bit slow, price very reasonable.

A romantic style restaurant with some excellent greek dishes to try.

Can highly recommend this one.
Neil S
Absolutely brilliant place. Loads of Greek dishes to choose from and reasonably priced. Very good service. Would recommend to anyone going to Kardamena.
Chad W
Tried several restaurants in Kardamena before coming here and never went anywhere else for the rest of our stay. Our party of 6 initially tried lots of different starters but by the last night we were ordering 6 meatballs with yoghurt because they were sublime. The chef even gave me the recipe on the last night, along with some of his own dried herbs, so I could try it at home. Service may not be that fast but who wants to rush in such a beautiful setting? The waiters may not rush but they are polite and friendly. Every main course we tried was delicious and the wine was reasonably priced. Should I ever return to Kardamena I will eat nowhere but Avli. One word of caution; we got there around 7 pm and had no problem getting a table for six but found that it fills up really quickly after 8pm.


Sharon H
Fantastic Restaurant!!!!!!!!! THE best reatuarant in Kardamena! As a veggie, I found it to be THE best reastaurant in Kardamena with an extensive veggie menu. The waiters are SOOOO fine! hubba hubba! I'll be back next year! Mention to Charlie on the door.. HELLOOOOO!!!! you mad girl!

From Shaz(Bolton)
Bernie I

Some restaurants look devine.... this is one of those restaurants. The service was superb but the food I ate let the whole experience down.... sorry guys!!
Manchester G

this is a beautiful place to eat the eating area is picturesque. the food was good but could hve been better, for exmple no feta cheese in the stuffed peppers!!overall it is a lovely place to eat though there is no doubt ......although we couldn't work out if the waiter was alright or a bit stuck up his own a**e!!!
Sarah

We ate here because so many people had recommended it to us. the food was really nice and the service was good it was a little more expensive than some other restaurants but its definatly worth a visit.
Shane L

This is the most beautiful reasturant of all in kardamena!! The food is very, very good and huge portions! It arrives quickly with equally good service. I cant stress enough how beautiful the courtyard is!
Angela M

FANTASTIC, THE GREEK FOOD IS WELL WORTH A TRY, STAFF ARE GREAT AND THE SURROUNDINGS ARE EVEN BETTER, A LOVELY BIT OF AUTHENTIC GREECE IN A QUIET LITTLE TAVERNA. EVEN MY 8 YEAR OLD DAUGHTER LOVED THE FOOD. TRY IT!!!!!
Mark P
Excellent all round! Not bad value for money either! Nice and romantic little court yard!
Eftihia L

hiya!!! i live in kardamena kos , greece and i think avli is one of the best restaurants in kardamena. the food is excellent and the staff are really good. charlie ( the p.r.) is the best!! she rocks!!!

love ya all xxx tiaxxx
Jacqui T
avli was recommended to us last year but didn't get there. have just returned from week in kardamena and went to avli where we had absolutely delicious food, very nice wine, very friendly staff, and we were not hurried which suits us down to the ground. will definitely go back. thank you for lovely deserts marina
Portburd
hey panos, sorry took so long to come see you. went to this restaurant and it was absolutely lovely. the staff were lovely and the food arrived quickly and was absolutely gorgeous. very clean and very reasonably priced. definately go back there time and time again, wish we had found it a bit earlier than we did. the boss took time to go round folk and have a chat and even serve the food etc himself, a nice touch i thought. see you next year.
Gordon W
Great restaurant.
One of the classiest restaurants in Kardamena.
Some people have complained that you end up waiting quite a bit for your meal, but didn't it always used to be like that in Greece?
Anyway, the food is worth waiting for, and the price is always excellent.
Susan W
Meal was excellent. Well cooked and well presented and a very good atmosphere. Service was very good and the staff were willing to talk. This restaurant was very popular, with people queuing to get a table. My meal of sword fish steak had vegetables and baked potato instead of the usual chips and rice. Partners meal of king prawns was everything he expected. Dessert was cheesecake as there was no apple pie as it was Sunday and non had been cooked, still a good substitute. Get there early to get a table.
| | |
| --- | --- |
| Search for Avli in all of JustKos & the Messageboard | |
More Restaurants in Kardamena...

Adelphi | Amazon | Ambotis | Andreas Roof Top | Aramis | Ariadne | Artemis | Atlantis | Avli | Blue Note | Camelot | Chinese Bee | Cocomos | Costas | Dimitris | El Greco | Faros | Fat Olives | Genesis | Giannis | Gregs Place | Hellas | Italian Village | Jakes | Jakes English Bar | Koyros | laikon | Lazy Days | Loustros | Manolis | Mediterranean Sun | Moonshine | Nemesis | Nemo | Paradise | Pizza House Koala | Porkys Revenge | Posidonia | Pussycat Bar | Romanos | Salt n Pepper | Scala Roof Top | Sergios | Snack Attack | Steki | Symposium | Ta Adelfi | Taj Mahal | Tasos | Teos | The Old Olive Press | The Pizza Co | Tonis | Wok House | Yassou take-away | Yiannis Pizzas |